Moticont – Motion Control Voice Coil Stages
Van Nuys, CA – Moticont – Motion Control – The high performance compact positioning voice coil driven linear stages are used in positioning applications where high speed, high acceleration or high accuracy is required.
The motion control motorized linear stages are fully self-contained. Each stage utilizes one or two voice coil motor(s), a linear carriage system, an optical quadrature encoder feedback device and a home switch. The standard positioning resolutions of 1 micron through 29.95 microns are available for immediate delivery. Other resolutions are available upon request.
Range of motion is from 0.50" (12.7 mm) through 5.20" (132.1 mm). Continuous (stall) forces range from 1 lb (4.5 N) through 23.0 lb (102 N). The intermittent forces at 10% duty cycle are from 3.1 lb (13.8 N) through 73 lb (323 N).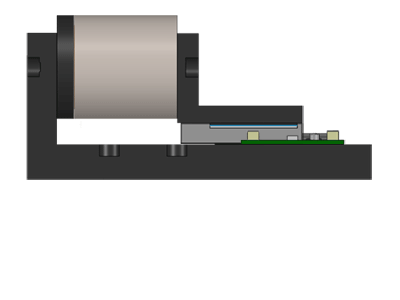 The stages may be stacked in XY, XZ and XYZ configurations.
For PDF Catalog of Voice Coil Stages from Moticont – Click Here!
For additional information contact MotiCont, "A Motion Company" at 6901 Woodley Avenue, Van Nuys, CA 91406, USA; Tel:
(888) 785-1804
(888) 785-1804, Fax: (818) 785-5713, E-Mail: moticont@moticont.com or visit the website at http://www.moticont.com
About Moticont – Moticont is a manufacturer of motion control products. Their product line includes voice coil motors, three phase brushless motors and positioning stages and slides.
Moticont is committed to exceeding Our customers' quality expectations and industry standards throughout the design, manufacturing, service and technical support phases. Our modern manufacturing facility, highly controlled processes, committed staff, and extensive testing complement our product design strengths. This enables us to supply our clients with specialized small orders to high volume just-in-time deliveries.
We offer an extensive line of standard products ready to be shipped immediately from stock, and when standard products are not quite right for an application, highly trained design engineers are always available to develop custom motion control products to fit the specific needs or our customers.
For additional information contact Sales Team at Moticont, 6901 Woodley Ave, Van Nuys, CA 91406; Toll Free: +1 (888) 785-1804, Tel: +1 (818) 785-1800, moticont@moticont.comor visit the website at http://www.moticont.com
See this and other Motion Control Components from Moticont featured on:

http://LinearMotionBlogger.com
http://MotionControlBlogger.com
http://MotionControlBuyersGuide.com
http://Catalogs-MotionControl.com